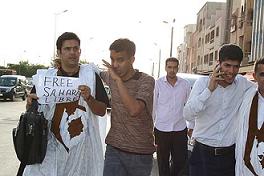 "The appeals court in Sale has accepted the bail demand of three of these six activists, after it was rejected last Thursday by the military court," Mohammed Sebbar said.
All six men were arrested in the coastal town of Casablanca after their trip to Tindouf, which is the headquarters of the Polisario Front movement that wants independence of the Western Sahara from Morocco.
The military tribunal in Rabat accused the six of "treason and intelligence with the enemy", but none of them have yet been tried.