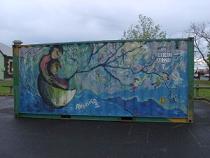 AWSA is a not-for-profit incorporated association established to raise awareness and promote the Saharawi cause in Australia. In particular it campaigns for:
• A UN referendum of self-determination
• Access to jobs, housing and education for indigenous Saharawis in occupied zones
• Monitoring of human rights, on both sides, by the UN
• Protection of the country's natural resources for the Saharawi people
The independence struggle in Western Sahara mirrors almost exactly that of the East Timorese. In 1975 when the colonial power Spain withdrew, the neighbouring country, Morocco, invaded. A war ensued until a UN sponsored ceasefire was declared in 1991 when a referendum was promised. Despite UN pressure Morocco refuses to agree to a referendum.
We oppose Morocco's human rights abuses that are occurring in the occupied territory of Western Sahara.

LINKS:
The wall of shame
Ron Guy, Green Left Weekly, June 9, 2004
AWSA Delegation Report
Australia Western Sahara Association visit to WS refugee camps, 2004