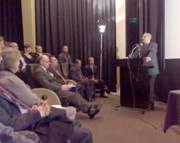 Ramos-Horta on Stolen:
This is a transcript of what HE Jose Ramos-Horta said on the slavery allegations in the film "Stolen" during an event held in Melbourne on 23 July 2009 where he spoke on the issue of Western Sahara (see news item on the event):
"I have to confess I have not seen the film but have read about all about it for many months – transcripts and articles………this is the first time I heard of it [slavery] in the camps.  It is totally an absurdity and made up, I guarantee you. (read full transcript at link below)
I have to say I was in the camps and I am not naïve – I am always a very curious person.  You go to East Timor and you will see me walking into the back alleys of buildings, visiting people while they were cooking in the kitchen and wherever I am I am always curious about human beings and at the Sahara camp I went visiting people in tents and talked with so many people.
I do not know the number of international NGOs that over the years have operated in the camps – numerous – far more than ever in East Timor.  The number of European parliamentarians visiting the camps and internationally, the Red Cross, always had free access to the Saharawi camps.  UNHCR – all areas that you can think of, all these years – no one ever heard of it.
Because this is the first time I heard of it in the camps.  It is totally an absurdity and made up, I guarantee you.
And if there is one liberation movement that I know…. over the years, many of us like Fretilin in the past, even the ANC, we have been embarrassed by some of things that we did.  The Polisario is one of the most genuine liberation movements and very humanitarian.  I never heard of brainwashing by the Polisario.  You don't see much propaganda material by the Polisario.
It is not an authoritarian, centrally controlled movement – very liberal, very open.  I know from my feelings – I am not stupid, not a genius – but I know when someone is deceiving me.  I know how to ask questions and I would never, never turn a blind eye if I knew of any abuses in the Saharawi camps because I would be an accomplice by supporting a movement that I knew was committing these barbarities so it is totally unheard of.
My experience being there – the experience of the UNCR, International Red Cross, numerous NGOs, European parliamentarians, US Congressmen – was that no one was ever told about this."