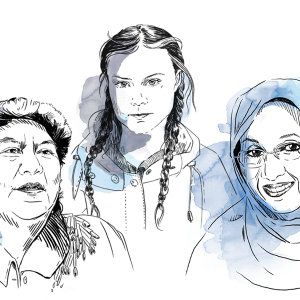 The Right Livelihood Award, widely known as the 'Alternative Nobel Prize', celebrates its 40th anniversary this year.
Press Release, Stockholm, 25 September 2019
The 2019 Award goes to Aminatou Haidar (Western Sahara), Guo Jianmei (China), Greta Thunberg (Sweden) and Davi Kopenawa / Hutukara Yanomami Association (Brazil).
The Laureates were announced in Stockholm, Sweden, on 25 September 2019 at a press conference at the International Press Centre at the Swedish Ministry for Foreign Affairs.
Ole von Uexkull, Executive Director of the Right Livelihood Foundation, commented: "With the 2019 Right Livelihood Award, we honour four practical visionaries whose leadership has empowered millions of people to defend their inalienable rights and to strive for a liveable future for all on planet Earth.