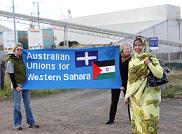 Australia Western Sahara Association
Press Release – 24 May 2011
….photo courtesy Geelong Advertiser
Disputed phosphate shipped to Geelong and Hobart – Australian companies continue unethical trade
As the Triton Stork berthed in Geelong at 6pm Monday, the Australia Western Sahara Association denounced Australia's trade with Morocco in phosphate sourced in the disputed territory of Western Sahara.
Earlier this month, Aicha Dahane, a Saharawi human rights activist from occupied Western Sahara added her voice to the protest about what superphosphate manufacturer, Incitec Pivot is doing in Geelong.
She said the trade in her country's natural resources should benefit her homeland and its people.  Indeed, Saharawis want to run this industry themselves and control their own natural wealth instead of seeing it make the colonial regime of Morocco grow rich:  https://awsa.org.au/?p=742
http://www.wsrw.org/index.php?parse_news=single&cat=105&art=1913)
For years the people of Western Sahara have been promised a referendum of self-determination by the United Nations, but Morocco has stymied attempts to organise a vote since 1975.
On Wednesday another phosphate shipment is due to arrive in Hobart on board the Livadia, this time for the Tasmanian-based company Impact Fertilisers.
"Australian companies and the government should clearly understand that they cannot support this trade so long as the conflict over Western Sahara remains unresolved", said Cate Lewis, Vice President of AWSA. "In trading in this phosphate our country is supporting the illegal Moroccan occupation while no country in the world recognises Morocco's claim to this territory", she added.
Further information:
http://www.awsa.digipipes.com.au/
http://www.wsrw.org/