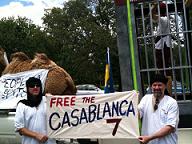 Members of the Australia Western Sahara Association organised a demonstration during the Annual General Meeting of Incitec Pivot, one the  Australian companies that imports phosphates from Western Sahara illegally. The meeting took place in Melbourne on 23 December 2009.
AWSA Victoria Press Reslease >>
Western Sahara Resource Watch Report
Members of the Association asked questions to the management of the company during the meeting and drew attention to the illegality of the import of phosphate from an illegally occupied country –Western Sahara. They also raised the issue of the abuse of human rights in Western Sahara and mentioned as an example the case of seven Saharawi human rights activists who were arrested in Casablanca and called for their immediate release.
The Australian Council of Trade Unions joined to support AWSA's action and its president issued the following statement:
ACTU Statement:
Sharan Burrow, President of the Australian Council of Trade Unions , said:
"The news that seven human rights activists are in prison simply for visiting refugee camps, and could face the death penalty, is appalling
They should be released immediately.
The Australian union movement stands in solidarity with our international colleagues in support of an urgent and peaceful solution to the occupation of the Western Sahara, and the right of the Western Saharawi people to vote for self-determination.
Some Australian companies are indirectly supporting this occupation through their importation of phosphate from Western Sahara.
They include the listed Australian chemical and fertilizer manufacturer, Incitec Pivot.
Incitec Pivot should appreciate that by trading in Western Saharan natural resources it is contributing to the worsening plight of the Western Saharawi people, because it encourages Morocco to continue to plunder the natural resources of these people."