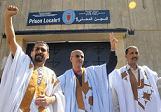 The Moroccan state has released the Saharawi detainees Ali Salem Tamek, Brahim Dahane and Ahmad Naciri on 14 April 2011. The three political prisoners have spent 18 months in the prisons of Salé and Casablanca/Morocco. The Moroccan authorities have also released Ahmad Mahmoud Haddi Elkainan, who was arrested on 18 October 2009 and sentenced to four years in prison by the Court of Casablanca.

The release of this group follows incessant appeals from international human rights organisations and international parliamentarians, condemning the arrest of Saharawi human rights defenders Tamek, Dahane and Naciri and four companions, and demanding their unconditional release. The group was arrested in Casablanca airport on 8 October 2009, upon their arrival from a visit to the Saharawi refugee camps in Algeria from 25 September to 06 October 2010.
The news of the provisional release was announced just after the three Saharawi HRDs had kicked off their ninth hunger strike, denouncing the Moroccan state's reluctance to grant them their right to a fair trial and the consecutive delays of the judgment. The prisoners demanded their rights be respected, or to be unconditionally released.
The executive office of CODESA has been notified on the release of Saharawi human rights defenders, Ali Salem Tamek, Brahim Dahane, Ahmad Naciri and Ahmad Mahmoud Haddi Elkainane, and we avail ourselves of this occasion to:
–         Congratulate the released Saharawi prisoners of conscience and all released Moroccan political prisoners, as well as congratulate all the comrades and their families upon this joyous news.
–         Express our appreciation of the significant role played by organizations, human rights associations, and international parliamentarians that have demanded the Moroccan state to respect human rights in Western Sahara, and to release the Saharawi human rights defenders and all prisoners of conscience in various places of detention.
–         Demand the Moroccan state to shed light on the fate of the abducted Saharawi, and to immediately release all the Saharawi human rights defenders and prisoners of conscience locked away in various Moroccan prisons. Moreover, we demand the Moroccan state to put an end to the grave violations of human rights against Saharawi civilians.
–         Recall the Moroccan state's responsibility regarding the Saharawi prisoners' health situation; this includes the released Saharawi human rights defenders, and the effects of their hunger strikes.
–         Demand an independent and just investigation on torture, violations and all kind of ill-treatment that Saharawi political prisoners have been subjected to in Moroccan police stations and in Moroccan prisons.
–         Insist on a follow-up of;
o       those responsible for crimes against humanity
o       those who instigate arrests against Saharawi, and who fabricate charges against human rights defenders and Saharawi civilians because of their position on the Western Sahara issue, their participation in manifestations demanding the Saharawi people's right to self-determination, their right to benefit from Western Sahara's natural resources, and their demand for improved social and economical conditions for the Saharawi people.
The following list includes information about the Saharawi human rights defenders / prisoners of conscience who have just now been released by the Moroccan state:
Prisoner's Name Capacity Date and place of arrest Date of release
Ali Salem Tamek 1st vice president of CODESA 8 October 2009 in Med V airport in Casablanca/Morocco 14 April 2011 from Salé prison/Morocco
Brahim Dahane President of ASVDH 8 October 2009 in Med V airport in Casablanca/Morocco 14 April  2011 from Salé prison/Morocco
Ahmad Naciri President of the local office of AMDH in Smara, and president of the Saharawi organization for protection of human rights defenders "sun Freedom" 8 October 2009 in Med V airport in Casablanca/Morocco 14 April 2011 from Salé prison/Morocco
Deggja Lachgar Vice president of ASVDH 8 October 2009 in Med V airport in Casablanca/Morocco 28 January 2010 from Salé prison/Morocco
Saleh Lebaihi President of the Saharawi forum for children's protection 8 October 2009 in Med V airport in Casablanca/Morocco 18 May 2010 from Salé prison/Morocco
Yahdih Ettarrouzi Human rights defender 8 October 2009 in Med V airport in Casablanca/Morocco 18 May 2010 from Salé prison/Morocco
Rachid Sghayar Human rights defender 08 October 2009 in Med V airport in Casablanca/Morocco 18 May 2010 from Salé prison/Morocco
Ahmad Mahmoud Haddi Elkainane Human rights defender 18 October 2009 14 April 2011 from Okacha prison/Casablanca /Morocco