Sahara Press Service
22 September 2017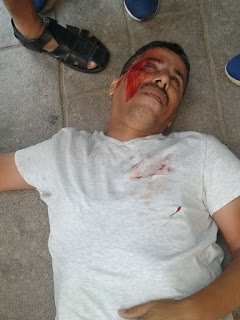 El-Aaiun (Occupied Terrritories), Sep 22, 2017 (SPS) – Moroccan forces carried out a violent attack on Sahrawi demonstrators in the occupied city of El-Aaiun on Thursday, to express solidarity with Saharawi political prisoners in Moroccan prisons and condemnation of the disperse of Gdeim Izik's prisoners.
The Moroccan forces imposed a siege on the neighborhoods that lead to Smara Street and houses of families of the prisoners, before carrying out their assault on the demonstrators.
The intervention was resulted in multiple injuries among the demonstrators, some of them in critical conditions, which required their transfer to hospital such as: Aziz Biza, Bashri Bentaleb, Hasana Duehi, Mina Abaali, Zaina Ashtuqui , Bushra Azafati, Embarka Bani, Maluma Abdalahi and Raguia El Hauasi.
According to sources from the Occupied Zones, Moroccan police forces still maintain a strong siege on the main streets of the occupied city of El-Aaiun, in anticipation of more demonstrations in solidarity with the Saharawi political prisoners.