Alex Whitehead
Honi Soit, August 7, 2022
The continued colonial occupation of Western Sahara is rife with state-sanctioned human rights abuses, brutality, and ethnic cleansing. Still, within the state, resistance thrives.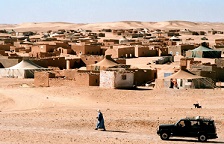 Western Sahara, a territory situated in the North-West of Africa's Maghreb, has been left behind by history. A victim of Moroccan ideas of national restoration and Spanish colonial objectives, the nation, which is home to almost 200,000 Indigenous Saharawi people, still struggles to decolonise (cont).