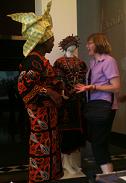 On Sunday 6 March Western Sahara, represented by the Australia Western Sahara Association, was one of twelve countries taking part in a West African Festival at the Immigration Museum in Melbourne.
The festival was opened by The Hon Nicholas Kotsiras, the Victorian State Minister for Multicultural Affairs and Citizenship with all the countries taking part in the welcome ceremony in their national dress.
During the day visitors were entertained with music, film, workshops (eg djembe drum making) and cookery demonstrations. Each country displayed cultural artefacts and photographs.
Many people were curious to learn more about Western Sahara and to listen to the music of Mariem Hassan, which was played during the afternoon in honour of the recognition she has received from Espiello ethnographic documentary festival for her contribution to Saharawi culture.