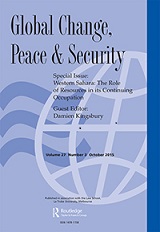 13 November 2015
La Trobe Law School announces the publication of the latest issue of

Global Change, Peace & Security, Special Issue: Western Sahara: The Role of Resources in its Continuing Occupation (Issue 27(3), October 2015).
To read about the right to self-determination, political and socio-economic factors that may inhibit its exercise, and the possible consequences of failure to give effect to that right in the context of the Saharawis of Western Sahara and Morocco's exploitation of Saharawi natural resources, see this latest issue.
The journal is published by Routledge in association with La Trobe Law School.